You are Invited
to a Public Information Meeting about the 
Great Lakes Cheese Proposed Manufacturing Facility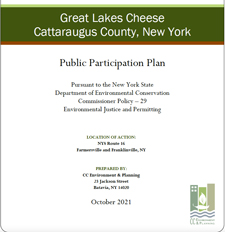 Great Lakes Cheese submitted an application to the NYS Department of Environmental Conservation for permits to build and operate a cheese manufacturing facility located on State Route 16/98, Farmersville/Franklinville, NY.
Your Attendance is Important
Get information about the proposed manufacturing plant.

Talk to representatives from Great Lakes Cheese and Cattaraugus County IDA.

Have your questions answered.

Discuss your concerns about the proposed development.

Provide comments on the proposed development.

Learn about the opportunities for public comment on the permit application.

Visit www.cattcoida.com or scan the QR Code to access recorded meetings.
For more information, contact:
Corey Wiktor
Cattaraugus County IDA
9 East Washington Street
Ellicottville, New York 14731
Call: 716-699-2005
Email
Important Related Documents